I've been having a lot of conversations about money lately, and we can all agree on one thing — money, while frustrating, is kind of necessary. No matter what your feelings are about the subject, it's pretty normal to like having money and want more of it. After all, more money often equals more security, more freedom, and more cupcakes. While I typically like to focus on how to earn more money, today I want to focus on saving money — specifically, how to save money without feeling like you need to be a hermit.
1. Make it automatic.
Here's the thing. If you want to learn how to start saving money, the easiest thing to do is making saving automatic. Once we have money, many of us tend to spend said money. So why not save some of it before you even get the chance to do so?
With some employers, you can split your ACH deposit into multiple locations — meaning you could have a few hundred bucks (heck, even $50 is better than nothing) deposited straight into your savings account while the rest hits your checking.
This might seem like a hard move, but once you get into the habit you'll forget it's even happening. Which is ideal.
2. Give yourself an allowance.
This is one of the more creative ways to save money, but bear with me — if you want to get better at saving money, then you need to get better at spending money.
Some people have a tendency to spend too little then blow it all in one go, while others spend way more than they intend to…all the time. One purchase leads to three others, and soon enough you've spent $75 at Target when you really only meant to spend $10.
Giving yourself an allowance means you only have so much money to spend on a weekly basis, and you know exactly what that amount is ahead of time.
It goes beyond, "I shouldn't spend more than this," and turns into, "I don't have more than this to spend."
For me, I actually have a separate checking account using Simple (not sponsored, but Simple has absolutely zero fees and is AMAZING) where I deposit my weekly allowance. This is money I use for food, fun, and other discretionary spending. (If you're spend-happy at the grocery store like me, you can add your food budget into this account too.) Because I literally only have a certain amount of money in that account at any given time, I can't go crazy at Target or on Amazon. This puts a little more control over your spending while eliminating the guilt that comes from over-spending.
Because here's the thing about your allowance. You can spend it on anything you want — no exceptions.
If you want to spend it all at Target one day, that's fine. If you want to save up a few weeks to splurge on a new pair of Bluetooth headphones, that's totally doable too. You are in control, this is money you're budgeting to spend.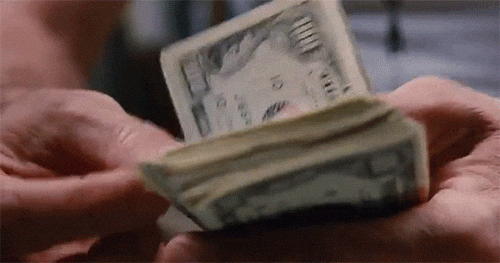 Over the years, this has made it way easier for me, a guilty shopper, to feel okay with spending money. And the best part? I'm now way less likely to use my actual checking account — the one that pays for all of my bills — on anything I shouldn't.
3. Reduce your subscriptions.
Thanks to the ever-increasing number of subscription services (here's looking at you, Disney+), the cost of managing monthly subscriptions continues to climb. I know what you're thinking, "Oh, it can't be THAT much money."
And it isn't. Especially if you only use one or two. But one or two quickly turns into four or five, and when you add in something like Amazon Prime, it starts to add up fast. Netflix ($12.99), Hulu with Disney+ ($12.99), and Spotify ($9.99) alone add up to $35.97 a month — without tax — and a whopping $431.64 per year.
I'm not saying that you shouldn't have subscriptions — I definitely have them (and love them). However, if you're trying to save more money, then you need to take a look at which subscription services (including professional services like Canva Pro, Skillshare, and more) you're actually using on a regular basis versus the ones you barely touch.
Also, and this might seem harsh, but sometimes we use streaming services so much that we don't even realize that we're wasting our own time. Like…a lot.
I know that eliminating one $10 monthly subscription doesn't seem like huge savings, but with $120 extra bucks every year to drop into your savings — or splurge on a Christmas gift for yourself — for something you barely even use, you can start building a better savings account piece by piece.
(Bonus tip? If you have a lot of debt, you can also look into dropping some of that extra cash into your principal — assuming your debt doesn't penalize early payments — and that stuff adds up quickly. Just an extra $25 per month paid toward your principal can save you nearly $10,000 on a $120k mortgage.)
4. Pay your bills biweekly.
When my partner first suggested we switch to paying our bills biweekly, I hesitated. It didn't make sense to me — especially since we were using autopay (hello, it's brainless) — but it ended up being a great way to save money.
Why? Because paying your bills biweekly means you have a better idea of the status of your bank account at any given time.
Here's how: Let's imagine you have 8 different bills that all have 8 different due dates — rent comes out at the beginning of the month, student loan payment in the middle of the month, and your phone, insurance, and utility bills all come out at the end of the month. For most people, rent is the biggest bill — meaning you just watched your bank account tank all at once — leaving you feeling extra tight until your next payday, praying that you'll have enough to cover the rest of the month.
This is what we do instead. We look at all of our monthly bills and figure out what they are — on average (okay, for rent and student loans, we already know the exact numbers) — every single month. For utilities and things that change, we make sure to include extra padding for the months when those run high (like your winter heating bill) and round up a few extra bucks. Then, we split that number into two. This is what we pay using the bill pay feature in our online checking account — making it fully automatic — so we never have to remember to pay anything.
Why two? Because most people are paid on a biweekly schedule. We have it set up to "push" those payments out just after we're paid, meaning we always have a more accurate look at how much money we have left.
No more forgetting watching your bank account yo-yo throughout the month.
We also keep a "baseline" amount of money in our bank account at any given time to prevent any accidents. This can be as much or as little as you want. For us, it's a few hundred more than we probably need to keep in that account. But, since we only use this account for bills (thanks, allowance accounts) it doesn't get touched. It just keeps me from feeling anxious about overdrafts!
5. Use your local library.
Y'all…libraries are magical places where you can get FREE THINGS whenever you feel like it. Most libraries will even give you stuff without even needing to step foot into the actual library building. What?! That's amazing!
This is one of my favorite tips for saving money because it's simple, accessible, and fun. I use OverDrive's eBook (and audiobook) lending app, Libby, to download eBooks whenever I want to read something. Which is often. Someone recommends an amazing book? I get it on Libby. Need an audiobook to listen to on a long drive? I snag one on Libby.
All you need is your library card, and it's super easy to use. Plus, if your library doesn't have the eBook you're looking for, you can request that they add it to their collection. The best part? They usually will.
Seriously, libraries are amazing. They'll buy the book you want to read FOR YOU, so you can read it, it returns itself automatically — meaning no more overdue fines — and other people can enjoy it as well.
Many libraries also have services that allow you to borrow movies and music, plus you can — you know — go inside the library to check out even more cool stuff. This includes free wifi, free tables to work (free coworking), and more. Even better? Some libraries have cool resources like 3D printers to play with!
6. Wait 24 hours on purchases.
Okay, this one might seem a little obvious, but it's one of the most essential saving strategies out there. Want to buy something? Want to spend your money? Need a little retail therapy?
Wait first.
I'm not saying you can't go drop some cash at Sephora (or "accidentally" buy a new gadget on Amazon). However, you should try to give yourself a 24-hour window where you wait before committing to a purchase. This time can be used to ask if you *actually* need what you want to buy or simply ask if you need to buy it right this second. Because here's the thing — shopping isn't bad. Spending money isn't horrible. You don't need to go on a complete spending freeze if you want to save money.
It's just about learning how to budget, how to control your spending, and how to reduce your impulse purchasing.
Over time, you'll start to understand that maybe you don't need to buy a new journal and set of pens for your bullet journal when you have perfectly usable ones at home. Or, if you do want to buy them, then you can wait 8 more days until payday. You know, after you've already deposited some money into savings.
I don't believe in denying yourself the things you want, but I do believe in self-control. I save up for everything I want, and I have a lot of cool gadgets. (Plus, I really like to splurge on self-care products.) I just don't always buy things right when I want them — or all at once. When I got my new Canon DSLR, I actually waited about a month before I bought it. I wanted to make sure I'd actually use it and save up for the purchase first.
As a result? I got my camera, I had better incentive to save (and earn) more money, and my bank account never took a hit.
7. Track your budget.
If you want to know how to save money, the best strategy is to make a budget and follow it. If you want to go on a road trip to a place you've never been before, you have to glance at a map — or at least get some kind of directions — otherwise, you risk end up getting completely lost in the middle of nowhere.
The same thing applies if you want to save more money! You need to have a plan, even a really basic one, if you want to get better at saving money. If you're not great at budgeting, try using a tool like Mint to make it easy.
And once you have a budget set, you need to check it. How often is up to you, but I like to look at my budget at least once a month. This lets me make sure everything is going well (no more "oops, I accidentally spent way too much money last month and now I have to live on ramen for the next two weeks"). Plus, it allows me to scoop any EXTRA money leftover in my account into savings — or a reward for myself.
Because that's the thing about saving money. It shouldn't make you miserable. It's all about doing something that will make life more enjoyable for yourself in the long run. Not punishment.